Mobile Plastic Car Bumper Repair
Smart Auto Repairs Mobile Plastic Car Bumper Repair Service can repair your cracked, dented, scuffed or scratched plastic bumpers in a couple of hours. If it's a major repair, it might take a little longer!
We employ only the best painters and all our technicians are fully qualified, having came from car body shop backgrounds. They are use to undertaking large crash repairs as well as minor scuffs and scratches, they are available to offer all customers and affordable but professional alternative to  car body shop repair.
Our experience in fixing bumpers in the body shop has allowed us to take this knowledge and put it all into a mobile bumper repair unit that comes to you. A great service brought to your door!
Mobile Bumper Repair – how it works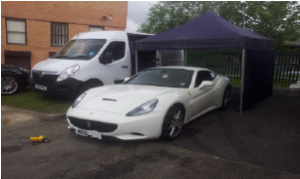 Our bumper repair service is mobile, so we will come to you at your chosen location to carry out the repairs. If it's raining, no problem! We can pop a canopy up to put your car under. We are different to most S.M.A.R.T repair companies in that we carry out repairs to cars with major bumper damage. We only use qualified technicians with body shop experience enabling us to carry out the larger repairs. Call us or fill in our online quote form & one of our advisors will contact you to discuss the repairs. The call will be short and simple, taking just a few minutes.
Getting a mobile bumper repair quotation
When we contact you, we will ask you for all the information we need so we can give you an accurate car bumper repair quote over the phone or by email. A photograph of the damaged bumper speak a thousand words so if you have one please upload this or email it to us as this will ensure that you receive an accurate quote. You can either upload the image to us when you request an online quote or if you prefer, you can text or email it to us later on. Once quoted, we will send you the plastic bumper repair cost via email. We are then able to book the job in at a date & time that is convenient for you at a location of your choice. We'll then send you a confirmation email & a check list of things that you will need to read through & confirm prior to our arrival.
VBRA APPROVED
For your protection and peace of mind.....
The VBRA stands for Vehicle Builders Repairers Association.It is a trade body that audits and ensures that  we conform to the correct practices of mobile vehicle body repair and are capable in what we do and how we carry out repairs to your car.
APPROVED CODE
TRADINGSTANDARDS.GOV.UK
It aims to promote consumer interests by setting out the principles of effective customer service and protection. It goes above and beyond consumer law obligations and sets a higher standard, showing consumers clearly that code members can be trusted.
Car Bumper Repairs Areas We Cover
We cover the whole of the North West of England including Manchester, Cheshire, Lancashire, Merseyside and Staffordshire for all types of plastic bumper repair.
All our Car Bumper Repairs come with a 2 Year Paint Guarantee.
Types of Plastic Bumpers
There are two types of bumpers, We can repair both types, these repairs would include the following types of damage; Cracked, dented, scuffed, and scratched bumpers to both front bumpers and rear car bumpers. For more information on the types of different bumpers click here.
Painted plastic bumpers.

Textured plastic bumpers.
Plastic Bumper Repair Kit
The Plastic Bumper Repair Kit we use is a kit that can only be used by professionals, we would not recommend a DIY plastic bumper repair as this could end up in long term costs and headaches trying to rectify the damage. You can take a look at how we carry out our bumper repairs to both  cracked and scuffed bumpers by watching one of our videos. Click here to view a plastic bumper repairs video.