Mobile Plastic Car Bumper Repair
Smart Auto Repairs provides one of the UK's most effective mobile car bumper repair services. We can renovate your cracked, dented, scuffed, scratched or split bumpers in just a couple of hours.
We are one of the few companies who are able to successfully fix more serious bumper repairs, purely because we only employ only the best technicians around.
We are all fully trained and qualified, and having come from car body shop backgrounds, we are used to restoring vehicles which have sustained larger scale impact damage. Ultimately, as everyone on our team is fully mobile, our overheads are much lower than the typical garage, meaning that you can save a significant amount of money on your bumper repair costs.
Our experience in fixing bumpers in the body shop has allowed us to take this knowledge and put it all into a mobile bumper repair unit that comes to you. A great service brought to your door!
Mobile Bumper Repair – How Does It Work?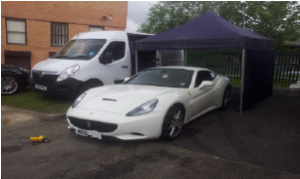 The office for our expert technicians is their van. Fully stocked with every tool and piece of equipment that we'll need for job at hand, we will come to you at your chosen location to carry out any repairs. If it's raining, no problem! We can pop up a canopy to shelter your car from the elements.
We specialise in a reconditioning method called S.M.A.R.T. This is short for Small to Medium Area Repair Technology, and is ideal for bringing an affected part back to its original condition. Where plastic bumpers are concerned, this is done by assessing the damage – cosmetic repairs are treated very differently from structural ones.
Cosmetic & Structural Repairs
For cosmetic bumper repairs, the likelihood is that any stress fractures in your component can be sanded away, with an application of paint then added which will perfectly match the original manufacturer's specifications. This type of task makes up the majority of restoration work we do.
On the other hand, structural bumper repairs are much more intensive and often necessitate the removal of the bumper. From there, we can use either plastic welding techniques or sculpting and bonding the material by using reinforced webbing before it is refitted so that it doesn't compromise the strength of the part.
Both are same day services and are much cheaper and faster than buying a brand new bumper to be fitted.
VBRA APPROVED
For your protection and peace of mind.....
The VBRA stands for Vehicle Builders Repairers Association.It is a trade body that audits and ensures that  we conform to the correct practices of mobile vehicle body repair and are capable in what we do and how we carry out repairs to your car.
APPROVED CODE
TRADINGSTANDARDS.GOV.UK
It aims to promote consumer interests by setting out the principles of effective customer service and protection. It goes above and beyond consumer law obligations and sets a higher standard, showing consumers clearly that code members can be trusted.
Types of Plastic Bumpers
There are two types of bumpers integrated into today's modern cars, both of which we are well equipped to restore. For more information on the types of different bumpers click here.
Painted plastic bumpers.

Textured plastic bumpers.
In either case, we aim to be finished and have you back driving again within a few hours.
Get A Mobile Bumper Repair Cost Estimate
Call us on (0161) 609 8111 or fill in our online free quote form. One of our advisers will contact you to discuss the repairs and give you an estimate of cost. The call will be short and simple, taking just a few minutes.
When we contact you, we will ask you for all the information we need so we can give you an accurate quote over the phone or by email. A photograph of the damaged bumper speak a thousand words, so if you have one, please upload, email or text it to us, as this will ensure that you receive a more precise estimate with no hidden charges.
We are then able to book the job in at a date and time that is convenient for you at a location of your choosing. We'll then send you a confirmation email and a check list that you will need to read through and confirm prior to our arrival.
We cover the whole of the North West of England including Manchester, Cheshire, Lancashire, Merseyside and Staffordshire for all types of plastic and textured car bumper repairs. We have also recently expanded into London.
All our completed jobs come with a 2 year paint guarantee.
Professional Plastic Bumper Repairers
We use a type of bumper repair kit which can only be used by professionals. We absolutely would not recommend that you take on a bumper overhaul as a DIY project – they are tricky objects to mend, and it could end up in you incurring long term costs and headaches trying to rectify the damage.
You can take a look at how we carry out our repairs to both split and scuffed bumpers by watching one of our videos. However, we have built up our knowledge with decades of practice, and as vehicles become more advanced, so do the techniques for restoring their parts.