Mobile Car Scratch Repair Service in the North West
With over 20 years of experience, our mobile car scratch repair service delivers the excellence and experience of our technicians, to your home or business.
Once there, we can fix a scratch, scuff or dent to your vehicle's bodywork inside a couple of hours, restoring it back to a showroom standard.
All we need is access to power and room for both our van and your vehicle.
With all of our technicians having worked in large body shops across the UK they can provide you with the highest quality of workmanship alongside having a wealth of knowledge in car scratch repair.
How Much Does It Cost?
Our system provides a free estimate quickly.
Simply click the 'Free Quote' button and send us as much detail as you can.
We'll then email and text you a reply with what you can expect to pay.
Why Choose Smart Auto Repairs?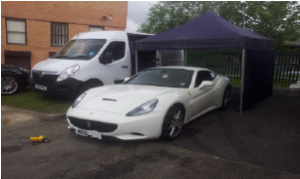 There's no fuss; our friendly advisers will contact you and fix a price within minutes.
We're fully mobile and will travel to locations across the North West including, Cheshire, Manchester, Merseyside, Lancashire, Staffordshire and Flintshire,. We have also expanded into the south, covering Berkshire, Hertfordshire and parts of London.
Our staff are qualified and trained to carry out large repairs to multiple panels as well as those to small areas.
The weather won't beat us; if it rains, we'll put up our own cover.
We're cost-effective and we use only manufacturer-approved paints and lacquers.
What we do
Our methods are no different to those used in garages and crash repair centres across the UK.
Each job takes around 90 minutes, and you can choose where we do it.
Sometimes panels must be blended so the colour matches, and we use infrared lamps to cure the lacquer before it is flatted and polished.
We advise you not to wash your vehicle with a pressure washer for a fortnight afterwards to allow the solvents to cure properly.
After treating your chip, dent or scratch, the car's paintwork will look like it did when you bought it.
Areas We Cover for Our Mobile Car Scratch Repairs

Our heartland is in the North West of England, including Manchester, Cheshire, Merseyside, Lancashire and Staffordshire.
However, our steady growth has enabled us to expand into new territories, including London, Berkshire, Hertfordshire and Flintshire.
Car Scratch Repair Products
We do not use any buy of the shelf car scratch repair kits or car scratch repair pens and we would not recommend using these as they tend to cost more in the long run and never fully rectify the original scratch in the first place. We only use manufacturers approved paints and lacquers.