Our mobile car dent repairs team can fix your damaged car quickly & efficiently, with the majority being fixed in under 2 hours.
As our service is mobile we can come to your chosen location, all we need is access to power and space for our van and your car.
We have been repairing car dents since 2004 and all of our dent removal technicians have been trained to the highest standards and have worked in large body shops in the UK. Just pick up the phone or use our online quote form for an instant mobile car dent repair quote.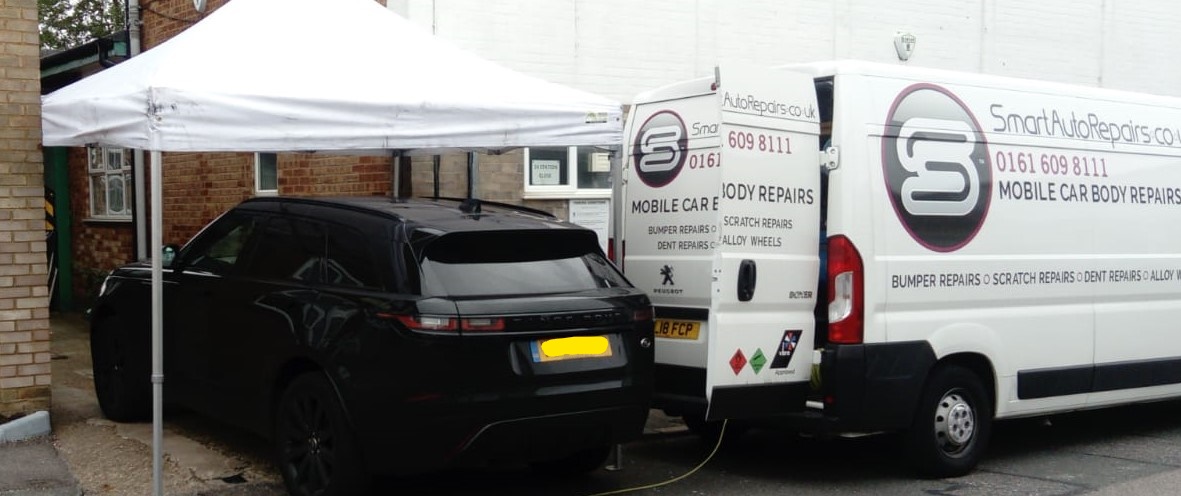 Access to power
Space for our van
Space for your car
Read What Our Customers Are Saying About Us……….
Recently had my BMW 530 very well repaired by Smart Auto repairs. The rear wheel arch (dog leg) was scratched and dented and alloy wheel damaged in three places not just on edge after collision with gatepost. They responded quickly with a quote and came to my home two days later on time. Repair was completed in just over 2 hours and is perfectly fine. Cost approximately 30% of BMW dealership quote, which was great as I have hit the same gatepost twice in 6 months! >I used Smart last time and was happy to use them again… no complaints!
Highly recommend the guys at Smart Auto Repairs. Have used them for years as have family, friends and numerous colleagues. Great service and always arrive on time. Never had any repair picked up on return of lease vehicle. Dents, scratches and alloy wheel repairs.
I can't fault the guys at smart auto repair always does a awesome for my callipers and exhaust tips job especially on my c63, always ask for Danny he's a legend
I was so impressed with Smart Auto Repairs.Their quote was the most competitive, their communication was great and the work completed fantastic. Thank you so much.
excellent job,and very quick. Also very punctual .Highly recommended.
Absolutely amazing service, they went above and beyond, let me know exactly what they were doing and how they were doing it, my car looks new again, I was given plenty of advice on after care, would definitely recommend them. Thanks for the brilliant job
Very pleased with the paint work on my car would recommend highly nice guy as well
Fantastic service from start to finish.I emailed photos, got a great quote within 30 mins and was booked in on a day to suit me, only a couple of days later. Danny did an amazing job with my alloys, kept me updated by text message and the end result is that I am very happy. Thank you!!
I had a very good result with this very professional company and would highly recommend them. They were personable and did a super job on my 2 scratches. The technician that arrived Nate was very friendly and efficient!
I cannot say enough good things about them… do not look any further but hire Smart Auto repairs if you want an immaculate job.
Thanks
Andrea
Recently bought a MINI from a main dealer in London which had scratches on but with living in the NW, they arranged for Smart Auto Repairs to carry out the repairs at my place of work.Danny communicated with me the night before to confirm the appointment and in the morning prior to arriving and was done in under 45 minutes.Very friendly and easy going and went above and beyond outside the scope of work. Really impressed and highly recommended.
I am very greatful for the excellent dent and paint repair work carried out by Tom he arrived very promptly, he was very polite and hard working. I would recommend Smart Auto Repairs they have done a very professional job.
Lee arrived at 07.10 as promised and was efficient and friendly and repaired scuffs and scratches on my vehicle. Did a fabulous job and I was able to go to work on time as he'd finished the job in 1.5 hours. I would highly recommend this company. I was quoted £100 more elsewhere!
I recently had a dent and paintwork repair. Excellent job. Tom the technician arrived very promptly at 8 am and was very pleasant to deal with.
The company came highly recommended and I would certainly recommend them for their good service.Very easy to get a quote from Steve via the Internet .I was happy with the price quoted.I have already booked another repair with them.
The firm has used Smart Auto Repairs to fix bodywork and alloy wheel damage on a couple of its vehicles.

The service has always been excellent and well priced. The repairs have been flawless and the technicians who did the work polite and courteous.

We would happily recommend them to anyone needing bodywork or alloy wheel repairs. An excellent service.
Smart Repairs offer a great service, efficient, prompt, courteous, honest and professional. Right down from to the first contact online to a telephone consultation & then communication via email, one word exemplary. The field engineers that came out were knowledgeable, pleasant, friendly & always arrived on time.
I really can't big them up enough!Second time I've used their service and still very impressed!The work was completed to a very high standard. I wouldn't trust just any company with my BMW but I definitely these.I'll be back again and recommending to others to them every single time.
Your next step for a dent removal quote
If you have your photos at hand simply click on the instant quote button and fill in the form, remember the more information about the car and damage you give us the more accurate our quote will be. You don't have to fill in all the fields, as long as you give us correct contact numbers and an email address we will either email you straight back or call you with in 24 hours. Our emails sometimes go in the spam or junk mail folder so please check this once you have filled in the form as the system will email you back with some estimates straight away. You won't be disappointed with our Mobile Car Dent Removal service.
The Car Dent Repair Service – What's provided
Our car dent repair and paint service is mobile so we will come to you to carry out the mobile dent removal, in case of rain we can pop a rig up to put your car under. We are different to most S.M.A.R.T repair companies in that we carry out mobile car dent repairs to cars with major dent damage on multiple panels. We only use qualified technicians which enables us to carry out the larger repairs that others won't. Call us or fill in an online quote form & one of our advisors will contact you to discuss the dent and scratch repair. The process is very simple & friendly taking just a few minutes.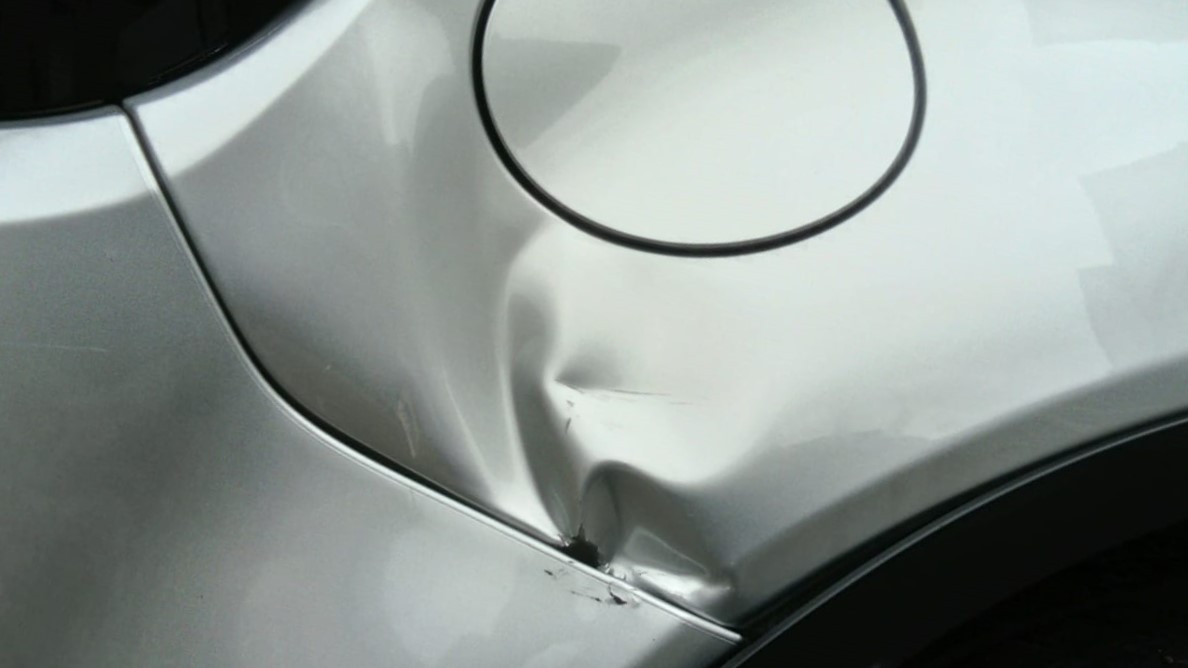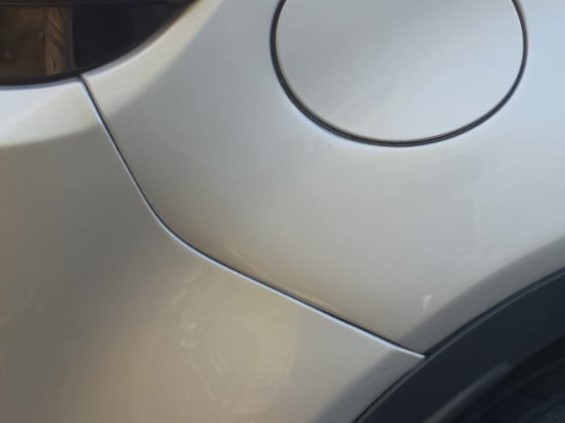 Types of Dents Repaired
Smart Auto Repairs mobile car dent repair service can repair dents that have broken or split paint work, some companies can only repair dents that have not broken the paint but our Mobile Paint & Repair technicians are trained to do both. We can also offer you a paintless auto dent repair solution. So we can offer both a Scratch and Dent Removal system to all our customers. Click here to read more about the different types of dents.
Mobile Car Dent Repairs – How it Works
We take all the information we need from you in order to give you an accurate Mobile Dent and Scratch Repair quote on the phone or online. For a dent repair we would need to see a photo of the damage which you can either text, upload or email to us. Once you have been given your quote we are then able to book you in for a date & time that is convenient for you. We send you a confirmation email & a check list of things that you will need to read through & confirm prior to us arriving. All our work is backed by a 2 year paint guarantee.
Sending Us a Photo of  The Damaged Panel
When taking a photo of the damage it is important that you stand 2 -3 feet away from the panel and take a picture of the complete panel. We receive a lot of photos where the picture is too close and we can not make out what we are looking at or how big the dent is in comparison to the size of the panel. We need a photo taken face on and one taken with a side view looking down the side of the car. This will indicate to us if the dent has travelled and what type of dent it is.
Why use our mobile dent repairs service?
Smart Auto Repairs is part of the VBRA which stands for the Vehicle Body Repairers Association, to be approved by them you need to meet a certain quality criteria and standards in mobile car dent repair and paint. We have been doing mobile dent removal since 2004 and have serviced over 5000 private customers and worked with some of the largest dealerships in Manchester, Cheshire, Liverpool and Stoke on Trent. So for an assured mobile dent removal  service Smart Auto Repairs is who you should be using if you value your car.
Areas We Cover for Mobile Car Dent Repair
Our mobile car dent repairs service covers the whole of the North West of England which includes the counties of Merseyside, Lancashire, Cheshire, Staffordshire and Manchester. We have local technicians in Manchester, Cheshire, Liverpool, Bolton, Stockport and Stoke on Trent.